A few eyebrows raised when the latest FHFA House Price Index (HPI) reported the Charleston market led the nation in price increases during the first quarter (See South Carolina Plays Catch Up).  Charleston is not the only southeastern market to join the housing recovery.
According to the latest monthly poll of southeastern broker and builder contacts by the Atlanta Federal Reserve, conducted in March, the South may be rising again but it most anticipate growth will continue at a steady pace.
Some highlights:
The vast majority of brokers and builders continued to report that home prices increased from the year-earlier level.
More brokers reported an increase in home sales in March than in February. At the same time, more builders reported a decline in home sales from February to March.
For the first time since February 2011, more builders reported that inventory levels had increased than decreased. However, the opposite was true for brokers, most of whom continued to report a decline in inventory levels.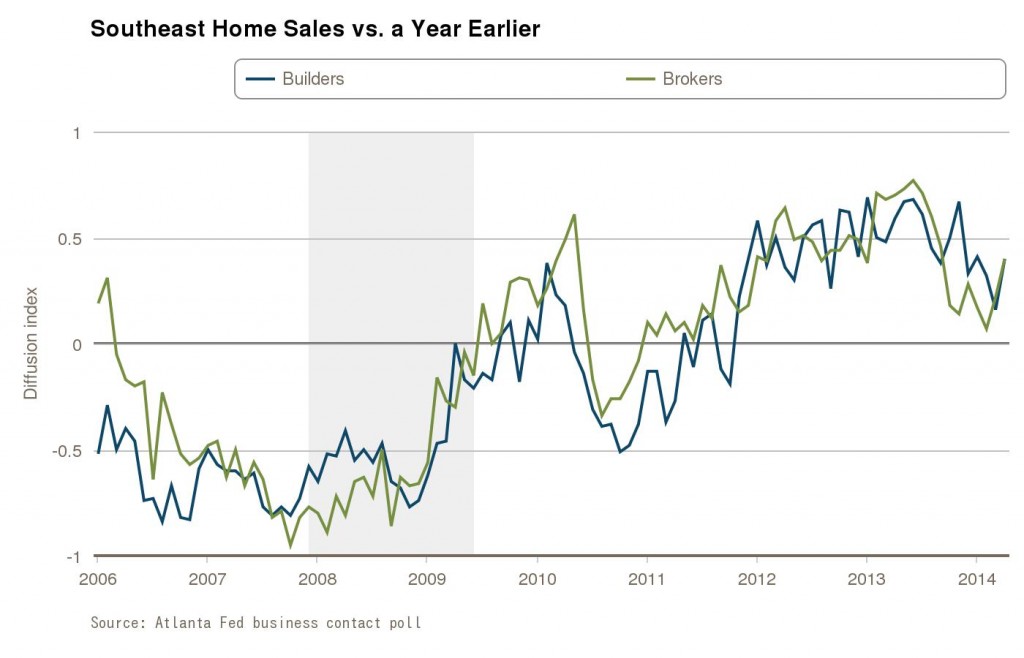 The number of brokers and builders reporting an increase in buyer traffic rebounded in March. This rebound supports the notion from earlier reports that weather conditions were in fact weighing down buyer traffic.
Brokers were asked if they expect to see a "snapback" in the home sales trend, and builders were asked if they expect to see a "snapback" in the home building trend. (We defined "snapback" as above-normal growth that would roughly put the industry on par with the previous level and help to at least partially recoup lost activity from the first few months of the year.)
Only 22 percent of brokers and 11 percent of builders expect to see a snapback in home sales and home building activity. The majority of respondents—56 percent of brokers and 68 percent of builders—indicated that they expect to see growth from the current level, but not a snapback. The remaining respondents indicated that they don't expect to see a snapback, either because they expect the weakness to persist or because activity never slowed down in their market.
In the final analysis, most brokers and builders in the Southeast indicated that they expect growth to be flat to slightly up from the year-earlier level.